Commando + Predator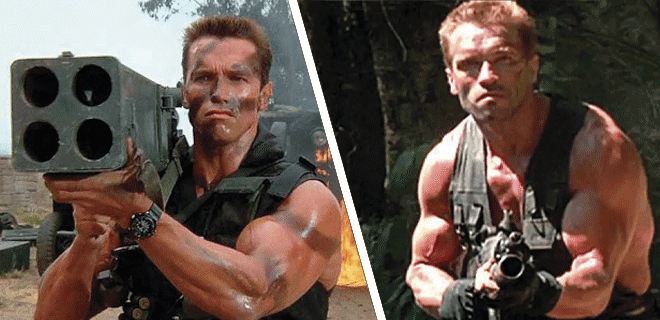 DOUBLE BILL! It's a dangerous double feature of early Arnie action!

Schwarzenegger's first above-the-title starring role following the break-out success of 1984's The Terminator, COMMANDO is quintessential bone-crunching 80s action to the max! We could tell you all about how he's a retired special forces colonel whose daughter is kidnapped by a bunch of bad guys but that plot has become such a trope (*cough* Taken *cough*) that it's not worth mentioning. What IS worth saying is that Mark J. Lester's actioner is full of in-camera stunts, car chases, sets that are torn apart and all-round non-stop kinetic thrills.

"Get to the [cinema]!" Witness the testosterone filled action horror powerhouse that is the original PREDATOR on the big screen. Dutch (Arnold Schwarzenegger) and his band of over-the-top 80s commandos (including Carl Weathers) are hunted by the world's most dangerous predator: the… Predator (not the most innovative name ever now to think of it). Armed with sheer will power, one-liners, and biceps, the team must find a way to outsmart the extraterrestrial warrior.
Show Times
Trailer
Details
Legend Deluxe: In-Cinema dining session.
Event: Special event screening, complimentary & discount tickets do not apply
CC & AD: Closed Captions or Audio Description available for individual/personal use in those shows indicating a 'CC & AD' notation on a film's session time booking button. Please note that only selected sessions are capable of offering the Closed Captions or Audio Description option, please contact the cinema in the event of confusion to avoid disappointment.
Session times for the new cinema week, commencing each Thursday, will be released the Tuesday afternoon prior