Election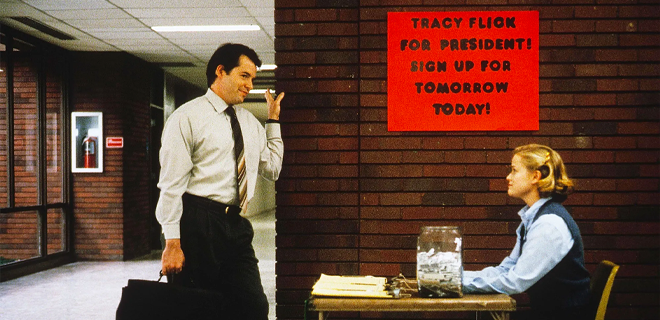 SAVE THE DATE! Election Day Screening: Saturday May 21, 4.30pm. Join us for a special election day screening of ELECTION – ticket price includes a Pick Flick cupcake and badge!

Politics. It's all about ethics. Or maybe morals. Or maybe it's all just a popularity contest.

Alexander Payne directs one of the finest political satires of modern times, ELECTION. A box office disaster upon its 1999 release, the Oscar-nominated film has gone on to become an endlessly quotable cult classic that is still provocative almost 25 years later. Matthew Broderick stars as high school teacher Jim McAllister. Having not quite lost his passion for teaching, the unopposed campaign of over-achieving student Tracy Flick (Reese Witherspoon) to become Class President causes McAllister to intervene. Recruiting a popular jock (Chris Klein) to run against Tracy for the greater good of the democratic process, what should have been a valuable learning experience spirals out of control in unforeseeable ways.
Show Times
Trailer
Details
Legend Deluxe: In-Cinema dining session.
Event: Special event screening, complimentary & discount tickets do not apply
CC & AD: Closed Captions or Audio Description available for individual/personal use in those shows indicating a 'CC & AD' notation on a film's session time booking button. Please note that only selected sessions are capable of offering the Closed Captions or Audio Description option, please contact the cinema in the event of confusion to avoid disappointment.
Session times for the new cinema week, commencing each Thursday, will be released the Tuesday afternoon prior